Effective Yet Affordable DIY SEO Tools
for Small Businesses & Startups
Running a small business?
NOT a seasoned marketer?
No time to learn SEO?
Spend 30-40 minutes per day and see real results:
1. Add your site, select target location and keywords
2. Aajogo will create an SEO roadmap for your site
3. Easy-to-follow SEO tasks will pop up in your account, giving you advice and the tools to succeed
Grade your site NOW
and drive organic traffic to your site
[ No credit card required to see the report ]
In a matter of minutes,
you'll get your SEO report
to help you boost organic traffic to your site: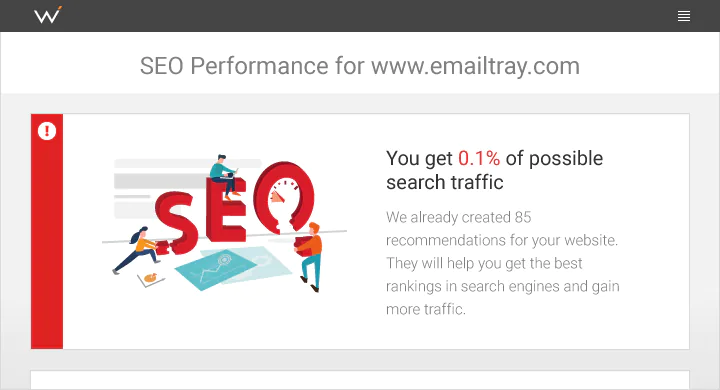 Your site SEO score,
which can be the starting point of your website promotion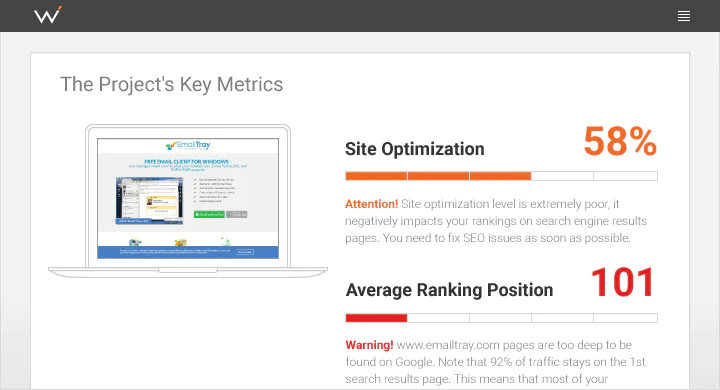 The traffic share
you are currently getting from Google and other search engines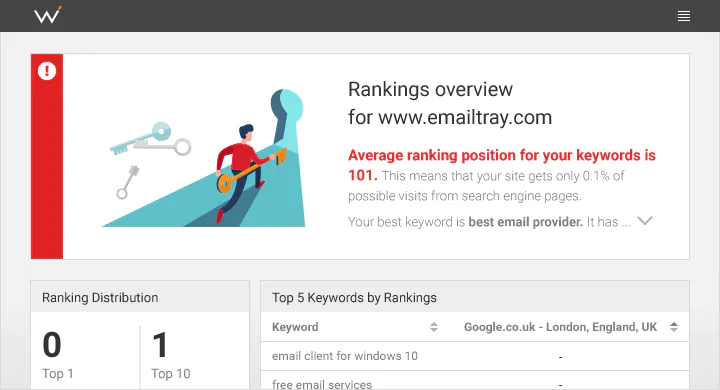 Your search engine rankings:
top keywords and ranking distribution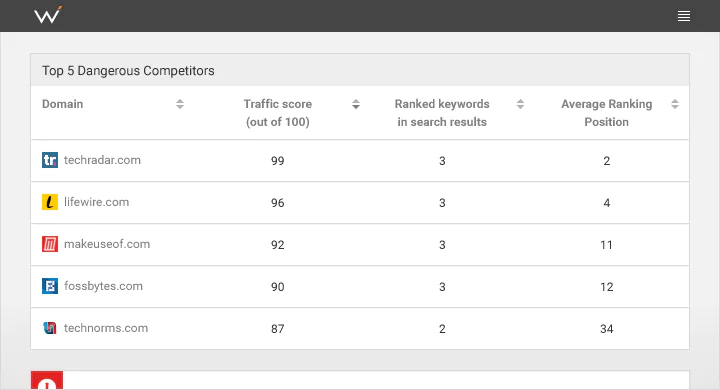 Your most dangerous competitors:
their traffic score and the keyword positions they steal from you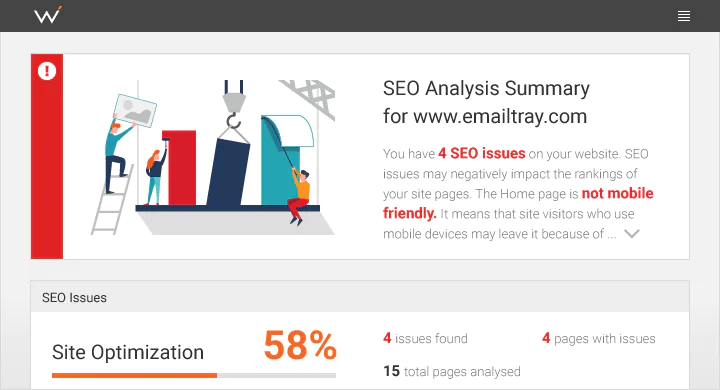 Critical SEO issues
on your site that might scare search engines away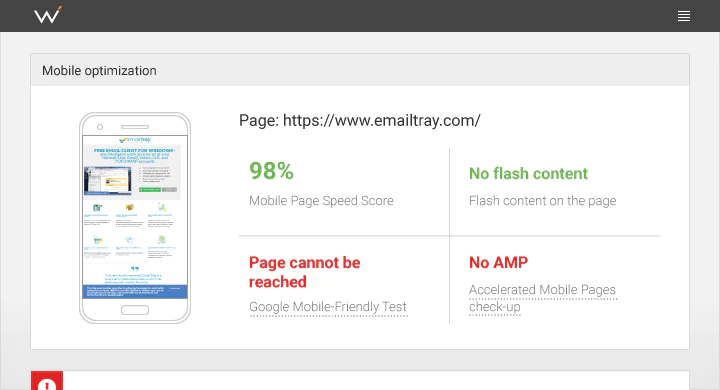 Mobile optimization issues:
a critical ranking factor in the era of Google mobile-first indexing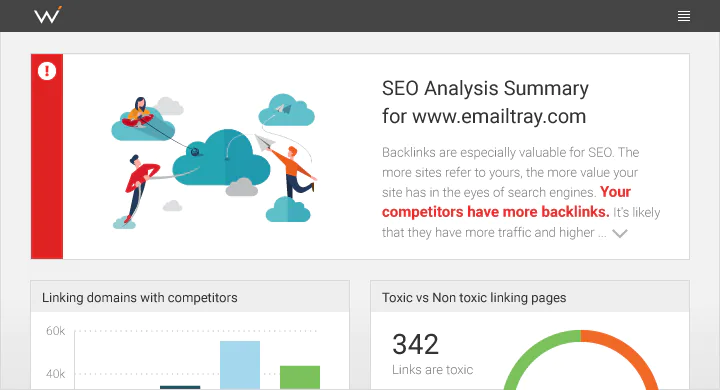 Backlink profile quality:
linking domains and toxic links that might hurt your rankings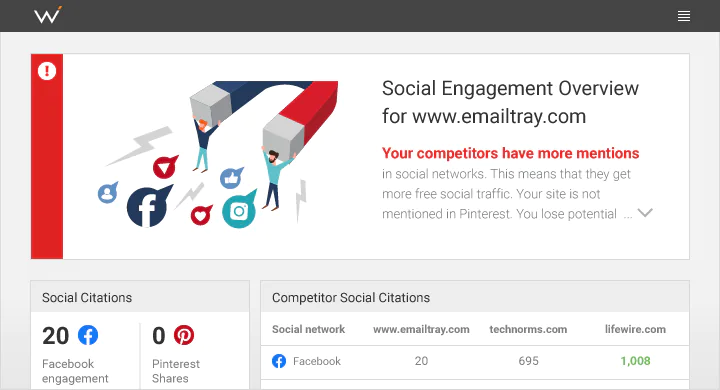 Social engagement overview:
popularity of your business and your competitors on social media
How These DIY SEO Tools Can Help You
Do SEO yourself easily,
without deep knowledge and experience:
pick the right KEYWORDS
tune your PAGES for better rankings
track your search engine RANKINGS
run regular SEO AUDITS
get SEO ADVICE on how to fix the issues
build high-quality BACKLINKS
remove TOXIC backlinks
spy on your COMPETITORS
optimize your site for LOCAL searches
track your SOCIAL performance
track your visitor TRAFFIC
Stay updated with the weekly digest
that will come directly to your inbox
Every week, we will send you an aggregated SEO report on your site. You'll also get a link to SEO opportunities recommended for each step of your website promotion.
Performance metrics will include your search engine rankings, backlink stats, SEO issues, technical errors and so much more - all in a simple but comprehensive presentation.
Enjoy self-paced FREE SEO training
integrated with the DIY SEO tools
Even if you are a beginner and have never promoted a website before - you'll be able to do it with Aajogo.
Just add your site, and voila - Aajogo will suggest easy-to-follow SEO tasks on a regular basis and provide detailed SEO tips and advice for each critical task.
Save thousands of $$$$ monthly,
which you would have paid to SEO Agencies
Most SEO Agencies charge their clients from $1,000 to $7,500 per project monthly, and maybe more.
With Aajogo's DIY SEO tools, you can easily save this money by doing cost-effective SEO yourself, so you can invest the saved dollars back into your business.
960+ businesses already rely on Aajogo.

Be the next one to grow with us!
Have a Brick-and-Mortar Business?
Do Local SEO to Reach More Buyers
When people search for something on Google they now see results tailored to their location. To help your potential buyers find your site (not your competitors'!), it is now critical to do local SEO.
With our DIY SEO tools, you will get extra tools and reports for local SEO:
Find the best local keywords used by your potential buyers;
Submit your site to local business listings and Google Maps;
See how your website is ranked by Google in YOUR location;
Get aggregated historical stats on your Google Business Profile listing;
Learn who your local competitors are, and overcome them.
DIY SEO Tools FAQ
What are DIY SEO Tools?
These are the tools that help you (website owners) to do SEO (search engine optimization) yourself, without hiring a digital agency. In other words, these SEO tools will help you gain free organic traffic from the search engines like Google, Bing, YouTube, DuckDuckGo and others - without taking much of your time.
What are the must-have DIY SEO tools which I should look for?
To do SEO yourself, you literally won't be able to work without the following tools:
A keyword tool. It will help you find the most profitable and optimal keywords which will bring you visitor traffic. Without a keyword tool, you can try to do guesswork. However only a good keyword tool will show you what search terms your potential buyers have already been using actively.
A website audit tool. It will scan your site and pinpoint all SEO issues or technical problems which push search engines away from your site, or don't let your site get ranked high.
A Rank Tracking tool. It will monitor your site's keyword rankings on the search engines. The higher the ranking - the more visitor traffic from search engines you will get. You may want to check rankings yourself in the area where you are at... but it might take you weeks to manually check your site positions for a handful of targeted keywords and you won't be able to see your rankings in other places unless you travel to them yourself.
A Backlink Checker. It will show you how many backlinks (websites referring to your site) you've earned and let you compare your backlink profile to the ones of your competitors. It will also help you see new backlink opportunities. It's impossible to find backlinks to your site manually without a backlink tool. That's why a backlink checker is also a must-have DIY SEO tool.
There are other helpful SEO tools out there on the market. However, these four tools are the must-have ones that you should have in your arsenal if you really want to do SEO efficiently.
How much time should I spend on SEO if I use DIY SEO tools?
It really depends on the SEO tools and the way they can actually help you. Some SEO tools only do reporting, without giving you any tips or instructions. Other tools are really helpful and provide you with SEO advice.
With Aajogo's DIY SEO tools, you may expect to spend about 30-40 min a day to do SEO yourself, without investing your time and money in SEO courses, articles or webinars. Each SEO task generated by Aajogo will give you easy-to-follow instructions and direct you to the specific SEO tool that will help you automate or simplify a given task.
The time spent on everyday SEO routines may vary, depending on your niche. The niches that are easy to dominate will require less time and effort. If your niche is tough to compete in, it might take you more time to succeed. However, the time you put in will give you much more output in visitor traffic and sales.
Our Task Manager will give you average time estimates, based on the time spent by our users on their SEO tasks. We truly hope that Aajogo will help save the time you spend on SEO routines and achieve long-term results.