Toxic Backlink Checker Tool
Protect and recover your rankings - start link detox with Aajogo Toxic Backlink Checker
Why Aajogo Toxic Link Checker
Find and audit yout backlinks fast and with no extra effort
Discover potentially spam backlinks on the fly
Get an automatically generated disavow file
Send toxic links to the Google Disavow tool
Be informed about all high-quality juicy links to your site
Run a complete backlink audit using Majestic & MOZ metrics
Get email alerts about any changes in your backlink profile
The most trustworthy link database
Aajogo offers the most powerful and reliable spam link checker in the SEO niche which is integrated with Majestic - a backlink data provider with the largest link index database in the industry. It currently features over 2,371,111,956,878 URLs and is updated daily.
You're not required to have a Majestic subscription. Aajogo has already paid for Majestic data so you will not need to.
Check your site for toxic links
Get the Most Out of the Aajogo Toxic Backlink Checker
Know everything about your backlink profile
Get the list of all backlinks to your site found by Majestic on a page and domain level.
See which links in your backlink profile are 'nofollow'
Check if there are relevant good links with 'rel=nofollow' that pass no link juice. Search engines will not give such links credit so you should try to influence webmasters to make them 'rel=follow'.
Find high-quality juicy backlinks to build or keep
Evaluate each backlink. Domain Trust Flow and other link authority metrics will help you determine whether a given link is good for your backlink profile.
Analyze potentially toxic links that harm your rankings
To keep your backlink profile clean and safe, Aajogo has created a specific toxicity formula that helps to identify toxic backlinks.
Fine-tune toxicity formula if needed
The default values are set for the best performance. However, you can adjust them manually according to your own requirements.
Super-easy Disavow File management
It has never been so easy and fast to create, import and export 'disavow.txt' before. Now it's simple with the new integrated functionality.
Schedule automatic scanning
Set Aajogo to automatically scan the websites you want to monitor.
Get instant email alerts
Select the SEO tasks you want to receive an email alert about in case any changes happen.
Dive Deep into Your Backlink Profile
Perform Link Detox - inspect page and domain-level insightful SEO metrics to analyze your backlinks authority and 'power' at a glance:
URLs of linking pages and linking domains
Link Text/Type
URL/Domain Trust Flow
URL/Domain Citation Flow
Organic Traffic
Domain Age
Review and analyze your backlinks in batch mode and do link removals with the help of Google's disavow tool.
Download the Sample Report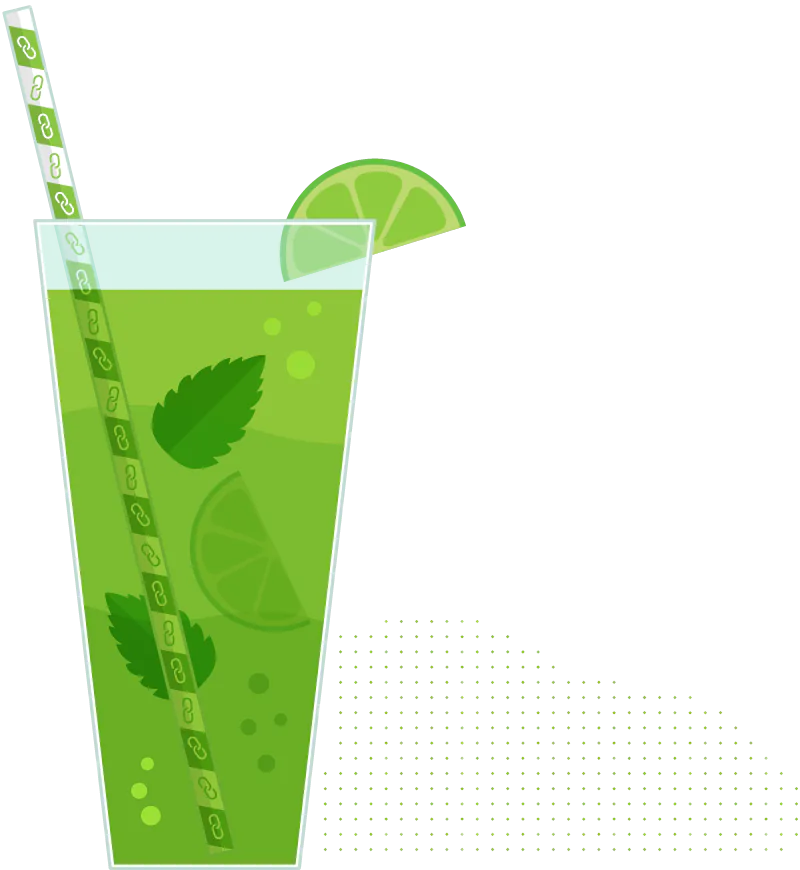 How to Remove
Toxic Backlinks
Get a list of all incoming backlinks to your website found by Majestic in the 'Linking Domains' and 'Backlinks' reports.
Apply handy filters to work with different groups of backlinks and sort them through.
2
Perform a backlink audit
Evaluate what each linking URL is worth and whether you need it.
Valuable SEO metrics will help you to define the good and bad links.
Links from unrelated or untrusted sources, sitewide links or a bunch of links with the same exact anchor text may harm your rankings (the 'Toxic links %' column shows you the percentage of potentially spammy links for each linking domain).
If there are domains you trust, you can whitelist those URLs in the Settings to consider backlinks from those domains non-toxic.
When you see toxic links in the report marked in red, start backlink removal.
If a manual perusal shows them to be really toxic, clean them up:
Get in touch with the webmasters of these sites and file a request. But you can't be sure the answer will come quickly; sometimes they won't answer at all.
Use the Google Disavow Tool. This is the way to report those toxic links to Google so that Google ignores them when assessing your site. You should still make every effort to remove unnatural links pointing to your site. Simply disavowing them isn't enough.
With the modernized toxic link checker integrated with the Google Disavow tool, dealing with the backlinks becomes as simple as never before.
If you consider any backlink to be toxic, add it to your disavow list. Download it to your hard-drive. Then upload your 'disavow.txt' to Google.
So easy!
To get better ranked on Google or to recover from a Google penalty and earn your rankings back, take care of your backlink profile purity. Google Penguin exists as part of the core search engine algorithm, and targets spam links and manipulative link building methods. The Penguin algorithm also considers the entire link profile, and the volume of relevant high-quality links versus the number of spam links.
Don't let toxic links drag your rankings down!
The aim of the Toxic Pages report is to clean up your backlink profile. You can easily monitor this from the Toxic vs non-toxic linking pages widget in My Backlinks.
The Backlink Profile Quality widgets help you quickly estimate the number of backlinks pointing to your site, the diversity of linking domains, their value and toxicity. Be notified about any backlink profile changes so you can react as quickly as possible. You can add/remove widgets easily on your Aajogo Project Dashboard.
How Aajogo Toxic Backlink Checker Works
URL/Domain to Analyze
Backlink Quality Checker finds backlinks
Web CEO gets backlink data from Majestic
(a powerful link database)
MAGIC ALGORITHM
The detailed analysis of each linking domain and each backlink (Total Links, Lost Links, Juicy Links, Nofollow Links, Link Text/Type etc.)
Links are marked toxic by a number of factors. The default values are set for the best performance, however, you can adjust them manually according to your own requirements.
REVIEW YOUR BACKLINKS
GOOD LINKS
Add to tracked links
(PARTNER LINKS WATCH)
Be sure that your most important backlinks are intact. We will check if they are crawlable by search engines and monitor what link text is used.
TOXIC LINKS
Add to Disavow list
Report non-desirable links to Google. Google will ignore those links when analyzing your overall backlink profile. Thus, toxic links will not harm your Google rankings.
Save time with the Aajogo Toxic Link Checker
& Protect Your Site from Google Penguin
Aajogo offers you a 100% Penguin-proof and effective tool for the best link building strategy
Read how using the Spam Link Checker helped one of our customers clean up after a massive negative SEO attack

Last week one of my sites got hacked and I suffered from a huge negative SEO attack. The hack itself was primarily my fault as I was running an out-of-date WordPress theme from 2008. The theme developer no longer supports it and I haven't had the time to migrate the site to a new theme. The hacker managed to insert some PHP spamming "viagra" everywhere. They also managed to hack a network of other sites, 204 domains to be exact all with "viagra" terms in the anchor text against my domain (thousands of backlinks). Good thing I use Aajogo and am constantly checking my backlink profile, otherwise I would have never caught it.

Brian Jackson, Entrepreneur who loves SEO, SMM, WordPress & Growth Hacking
Toxic Backlinks FAQ
What are toxic backlinks?
Toxic, or unnatural links are those incoming links which are not relevant, low-quality and done incorrectly. Toxic backlinks come to your website from websites which are not indexed by Google, spam websites, link farms, virus sites and malware websites created only for link building. Link building with such sites is unsafe and usually ends up with a Google penalty.
How to detect and monitor bad & toxic backlinks?
The easiest way to detect toxic backlinks is to look through your report at Aajogo Backlink Profile > My Backlinks (you can schedule scanning and reporting weekly, monthly or quarterly). But there are a few ways to detect toxic backlinks:
Obviously you will notice a sudden drop of your traffic level. Toxic backlinks are harmful for your rankings, so you will see the organic traffic going down.
Also, you may receive a warning e-mail from Google. The search engine stands against manipulating SERPs, so they will detect black-hat SEO activity and send a warning notification.
After checking a regular report on your backlinks, you will know better what's on with your backlink profile. Aajogo's 'Linking Domains' and 'Backlinks' reports show toxic links in red – so it's hard not to notice them!
What is the Google disavow tool?
The disavow tool is a part of the Google Search Console that allows websites to discount the value of some of their inbound links. This honest self reporting helps Google to know you don't deserve any penalties.
How long does a disavowal take to work?
Usually it takes around 2 days (48h) for all Google bots to take notice that there is a new Disavow file for your domain. Then, it will take from 1 to 8 weeks till the Google bots rescan the web – they have their own schedule. Keep in mind that a bot won't scan the web immediately after receiving your disavow file.
Why do I have toxic backlinks?
There are a few reasons why you do.
You created them. BTW, paying for links or content spamming are not the best ways to build an authoritative backlink profile.
Your SEO services provider buys you cheap links from questionable websites.
You are a victim of a negative SEO attack.
The good news is that you can still disavow those links and make your backlink profile powerful and back to working for you, not against you.
What is spam in SEO?
Spam means different black hat ways to manipulate search engine indexes. There are a few types of spam in SEO:
Content spam: keyword stuffing, hidden or invisible text, meta-tag stuffing and other manipulations, doorway pages, scraper sites, article spinning, machine translation.
Link spam: link farms, private blog networks, hidden links, spam blogs and guest blog spam, comment spam, wiki spam, cookie stuffing and much more.
Other types: mirror websites, URL redirection, cloaking.
Keep in mind that these spam SEO techniques will not give you long-lasting results.
How to protect your website from negative SEO?
Turn on Google Search Console email alerts. Google will send you a notification whether your website is being attacked by malware, your pages are not indexed, there are problems connecting to your server or even when you get a Google penalty.
Regularly scan your backlink profile. You can easily perform backlink analysis with Aajogo. This is the most important step to prevent spammers from succeeding.
Protect your valuable backlinks. Spammers may try to contact the owner of the link and ask them to remove the link, as if they were you. The best thing you can do is to contact website owners only with an email from your domain, so you can easily prove your direct relation to the website. Keep an eye on your best backlinks with the Partner Links Watch tool.
Check if there is duplicate content on the web that originally came from your website – this is quite a popular technique negative SEO spammers use. If your content is being duplicated, your website probably will be penalized and lose positions on SERPs.
Check your website speed because spammers may be sending thousands of requests per second to your server (Site Health > Technical Audit & SEO Analysis tools). If you don't detect this in time, your server will go down.
Don't be your own enemy and don't make enemies online. Using those unnatural link building techniques won't make your website popular nor rank high.